Want convenient 24/7 access to all your tank container shipment administration, without investing in IT integrations or paying subscription fees? mySTC is our comprehensive, free-to-use platform that takes you all the way from quote requests to tracking shipments and downloading documentation. From your desktop, laptop or mobile device.
Free, mobile-friendly, 24/7 access


Our free, comprehensive online platform enables you to get quotes, make bookings, track shipments, download documentation and stay informed at all times.

From your desktop, laptop or mobile device. Whichever type of screen you're using, you'll get a version of mySTC that's designed for purpose, to give you the most convenient experience.

Perfect for both regular and occasional users of tank containers.
NEW: Emission reporting on Quote confirmation at mySTC


Get an estimate of the expected emissions from each future shipment based on the selected route and modes of transport!
See quote emissions estimates report on every quote confirmation at mySTC platform and get an easy access and user-friendly insights into your transportation carbon footprint.
Read more
Quotes & bookings
Seamlessly transition from asking for quotes to confirming bookings, while being able to view your entire quotes and bookings portfolio in one place. With instant confirmations, access to current booking status and ability to download all relevant documents.
Documentation
Clear, well-organised access to all documentation associated with your shipments. From invoices to detailed information about your assigned tank containers, with ability to download technical documents from the moment of tank allocation.
Status & tracking
Stay in-the-know about how your bookings and shipments are progressing, through live online visibility and automatic email notifications.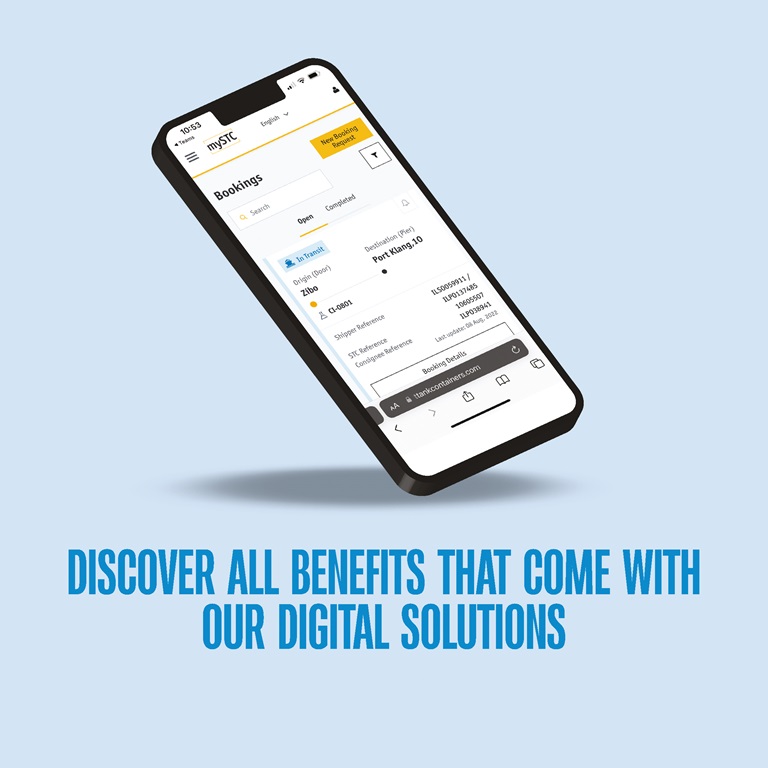 Stolt Tank Containers' digital tools offer a genuine advance in the bulk-liquid logistics industry. By directly connecting you to our updated online systems, they really do eliminate a cumbersome processes. Both for us and our customers.

Gone are the days of holding on the phone, writing long emails and waiting for responses. Now you can input your requirements directly into our booking system and see what we see, quickly and easily, whenever you want.


Continually evolving – watch this space!


New features and extended functionality are continually being added to mySTC. Watch this space to stay informed about each new development as it happens.
Digitizing your logistics processes offers many benefits.