Posted on 30 October 2023
Stolt Tank Containers (STC) has a truly immersive way of educating customers on how it safely transports their products: they take them inside a tank container!


With a fleet of more than 47,000 tank containers and a worldwide network of depots, STC completed 130,000 shipments in 2022 and the life-size demo tank is a great way to showcase how it's done.

Measuring six metres long and more than two metres in width and height, it has been customised to highlight how STC's tanks are expertly and precisely designed to safely transport a range of bulk liquids, including the many ways a tank can be efficiently modified to meet different product requirements – for example, switching from a bottom to a top discharge – and providing a magnified view of key features, such as safety valves and linings to prevent interaction between the tank surface and certain products.
"The experience is a real eye-opener for our customers," explains Simon Genit, General Manager, STC Southern Europe. "The size and robustness of the tank are always the first things people are struck by. That immediately gives them a better understanding of the quantity of product we carry within a single barrel. And it's great for customers to see, in magnified detail, all the safety and quality-assurance features needed to meet the requirements and sometimes the challenges of transporting their products."

Since it was introduced in April this year, the demo tank has been busy touring Europe, however requests from customers in other regions may soon send it further afield. "Customers in France and Italy are keen to have its entire commercial team trained on the specifics of the demo tank and others are willing to make tour bookings on their weekends," says Simon.

Business Development Manager, Yves Grenier, adds: "A lot of people who are involved in moving cargo with us have never seen a tank container in their lives, so this is a fantastic tool to educate our customers at all stages of the supply chain and promote our expertise and our commitment to safety and quality."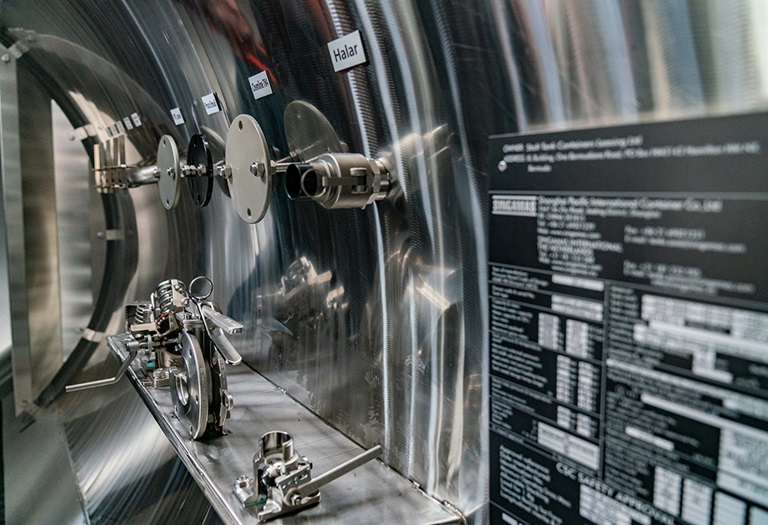 Learn more about Stolt Tank Containers' ISO tank containers